A highly ranked degree offered by Indiana University is accomplishing a twofold mission in a critical field: increasing the pool of skilled professionals needed in cybersecurity, and providing students a clear pathway to in-demand careers.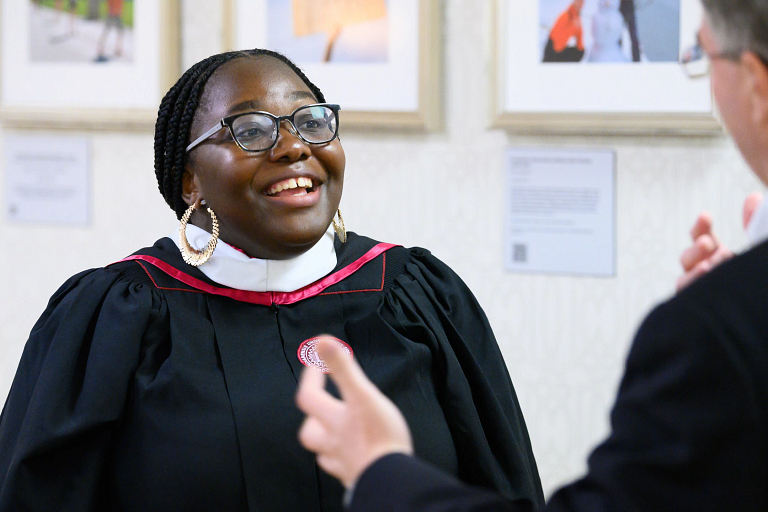 The Master of Science in cybersecurity risk management degree program, ranked fourth-best in the country, is a collaboration between three well-respected schools at the Bloomington campus: Kelley School of Business, Maurer School of Law and the Luddy School of Informatics, Computing and Engineering. The program aims for students to be well-rounded, prepared and marketable for the growing field.
Joseph Schuster, who earned his cybersecurity degree in 2020, said the program provided him a way to pivot from a music degree and turn a secondary interest in technology into a career he loves with an international cybersecurity consulting firm.
"The way they've set up the program is perfect for what I do, which is third-party risk management," he said.
Schools, hospitals, municipalities and businesses face daily threats of cyberattacks on their information technology infrastructure. Schuster said that the program prepared him for how cybersecurity operates in the real world, which involves engaging in all three facets of the degree program.
"We're the first triple school/discipline cyber program in the country, which introduces students to the technical, legal and business aspects of cybersecurity risk management," said Apu Kapadia, the program's new chair.
The Master of Science in cybersecurity risk management program started in the fall of 2017 to address the workforce gap of skilled cybersecurity professionals in Indiana and nationwide, focusing on interdisciplinary cyber education and applied service learning.
"We built this unique, integrated program on existing cyber certificate programs offered through Kelley, Luddy and Maurer and created one unified master's degree program," said Scott Shackelford, the program's founding chair. "But we didn't stop there, as seen in our additions of the IU Cybersecurity Clinic, Hacking4Defense and a unique capstone course in which the students work with sophisticated clients such as Microsoft and NATO on cutting-edge cybersecurity issues."
The interdisciplinary approach prepares students to protect intellectual property and privacy, promote systems security, and fight cyberthreats to national security, among other skills. Students can tailor their degree to have a broad focus or a specialization in one of four concentrations: technology, business, law or artificial intelligence. They also can earn the degree entirely online or through a hybrid of in-person and online classes.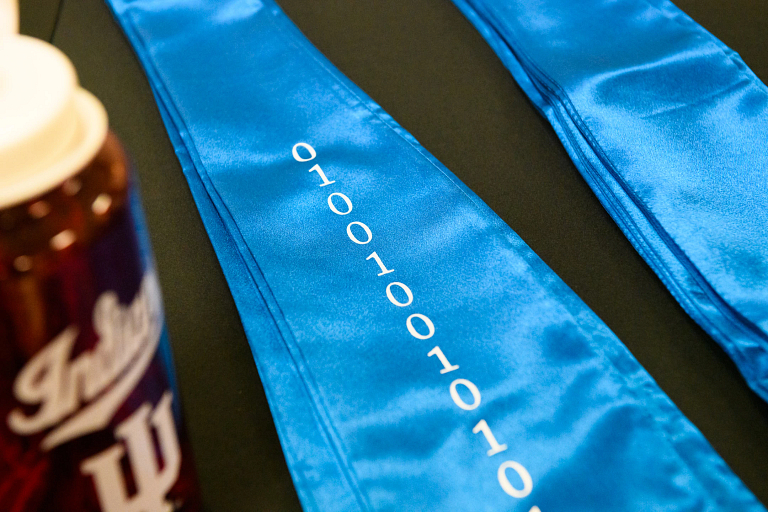 "Every student is on their own journey. The degree is customizable to them, which is great," said Joelle Andrew-Mohr, director of the Office of Interdisciplinary Programs in The University Graduate School, which administers the master's degree program.
Students who choose the hybrid option tend to be recent graduates, while students earning the degree online tend to have been in their jobs longer and are looking to switch fields or enhance their skills, Andrew-Mohr said.
"We want to offer the program to anyone who wants this particular experience, whether it be online or hybrid," she said.
Students can complete the degree in as little as a year and up to five, but most complete it in about 2½ years, Andrew-Mohr said. By May 2023, the program should top 100 graduates in its history.
Current and former students have come from a wide variety of backgrounds, such as psychology, computer science, mathematics and music. Graduates have gone on to careers in many fields, including higher education, consulting, nonprofits and government agencies. Employers include Microsoft, Deutsche Bank, Ernst & Young and the Federal Bureau of Investigation, among others, Andrew-Mohr said.
Schuster described himself as a "techie kid," who as a youth learned about the information technology field from the husband of his vocal coach. When he was pursuing his master's in voice and opera at Northwestern, Schuster was the go-to-person in the classroom for technology questions, he said, but he didn't think of it as a potential career path.
After completing his music degree, though, job prospects looked bleak, so Schuster started exploring other degree and certificate programs, including at IU, where his husband had been accepted into the Jacobs School of Music. That's when Schuster discovered the Master of Science in cybersecurity risk management program.
Schuster said he liked that the program welcomed students with varied backgrounds and offered a cyber skills bootcamp to help students build their technology skills. He took a combination of in-person and online classes his first two semesters.
With encouragement and resume help from a classmate and Andrew-Mohr, Schuster landed a summer internship with Planned Parenthood Federation of America after his first year. He did project management for information security, and Schuster said he saw his classroom learning used in the real world. The experience went so well that he was offered and accepted a full-time job with Planned Parenthood. Schuster completed the remainder of his degree online while working.
That first job also gave Schuster the experience he needed to springboard to his current consulting career. He works with clients across the country, helping them secure systems, protect personal information or improve safety controls with his client's vendors, among other tasks.
"I wouldn't have found cybersecurity and third-party risk management as a career had it not been that I had a really diverse skill set that I took from the program at IU," Schuster said.