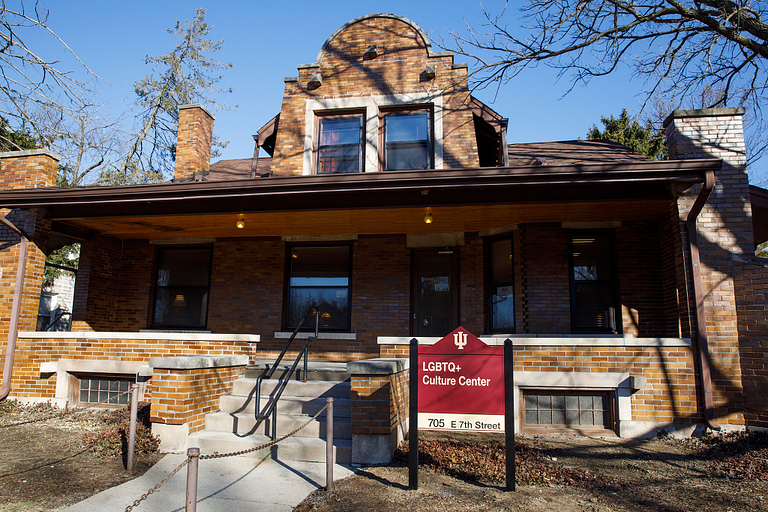 BLOOMINGTON, Ind. – Indiana University Bloomington has been named one of the "Best of the Best LGBTQ+ Friendly Colleges and Universities" in the United States. IU Bloomington stands among 40 colleges to receive the distinction from Campus Pride, a national nonprofit organization dedicated to the establishment of safer college environments for LGBTQ+ students.
"IU has long been staunchly committed to providing services, support and mentorship opportunities for LGBTQ+ students," Vice President for Diversity, Equity and Multicultural Affairs James Wimbush said. "Being the best of the best means IU innovates to embrace, serve and celebrate its queer community. The recognition from Campus Pride affirms this commitment and acknowledges the hard work of many dedicated staff members and others to make IU's campuses places of diversity, equity and inclusion."
For 28 years, the LGBTQ+ Culture Center has served as the hub of programming, resources and community for LGBTQ+ students, faculty, staff and alumni on the Bloomington campus. Through the center, students have access to a library that specializes in LGBTQ+ issues, culture and history, a mentoring program, and several other programs, resources and services. They also have access to the Gender Affirming Closet, which provides free clothing to anyone interested with no requirements for gender identity/expression.
"We are excited to again be named to Campus Pride's list," LGBTQ+ Culture Center Director Bruce E. Smail said. "LGBTQ+ students, faculty and staff have unique needs and challenges, and this distinction reaffirms the work we do at IU to meet the needs of our community."
Sym Cloyd is an undergraduate student who also works as the library coordinator in the LGBTQ+ Culture Center. For Cloyd, the center is a safe space for expression that allows students to make new friends within the LGBTQ+ community, learn about different identities and gain opportunities.
"When you first walk into the center, there is a 'Welcome Home' sign on the mantel above the fireplace. The former director put it there many years ago because he knew that a lot of students felt like they did not have a home, and he wanted the center to be that," Cloyd said. "The LGBTQ+ Culture Center is important to me because it is not only home to me, but I know for a fact it is home for lots of other students."
Campus Pride's "Best of the Best" list is based on a university's overall rating on the Campus Pride Index and specific LGBTQ-inclusive benchmark measures in a variety of areas including policies, institutional support, academic life, student life, residence life, campus safety and health. IU Bloomington maintains a five-star rating in the index.