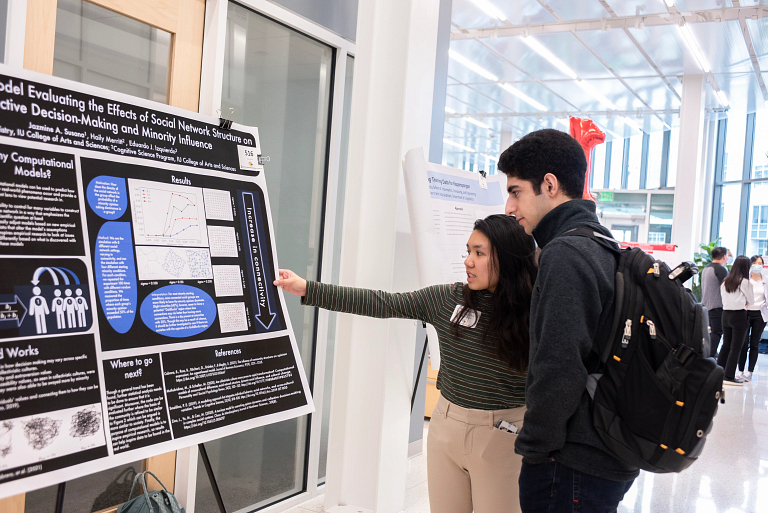 When Katie Siek was appointed the Department of Informatics chair at the Indiana University Luddy School of Informatics Computing and Engineering in 2020, she became the first woman to hold the position – a career accomplishment that decades earlier would not have seemed possible.
"I wouldn't be where I am without Title IX," Siek said.
Title IX was passed in 1972 and opened up opportunities for women in higher education by prohibiting sex discrimination. Before it was implemented, many female students were discouraged from studying the STEM fields of science, technology, engineering and math, and even barred from joining associated clubs.
Title IX reduced barriers for those interested in traditionally male-dominated fields like STEM. According to the U.S. Census Bureau, women made up only 8 percent of STEM workers in 1970. By 2019, they made up 27 percent.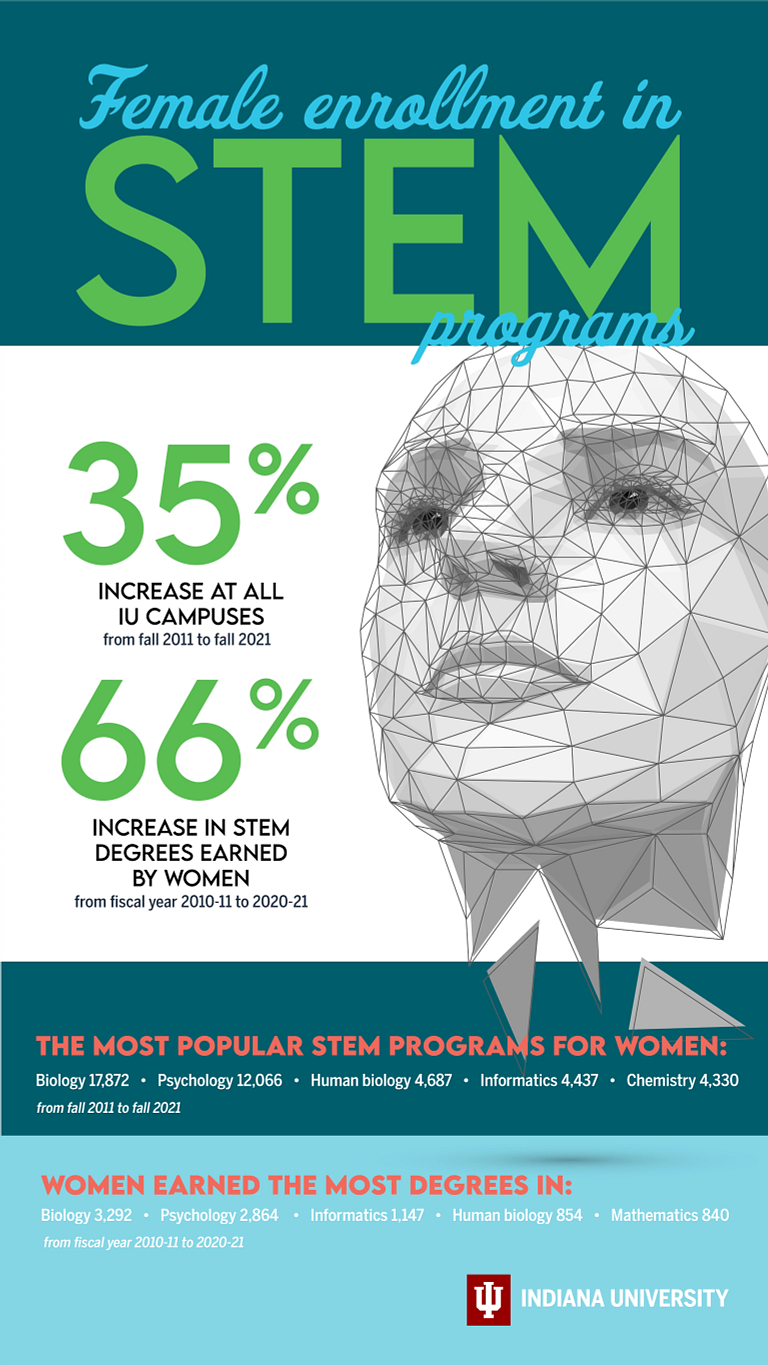 Siek, a first-generation college student, used an athletic scholarship to attend Eckard College in Florida, where she earned her bachelor's degree in computer science in 2000. She noticed the challenges women in STEM face when she attended IU to pursue her master's and doctoral degrees in computer science in the early and mid-2000s. While Title IX had been enacted decades ago by that point, she still encountered an environment that was not always as comfortable for women.
"Women weren't working in the labs, and that's where you get all your help," Siek said. "I asked women students, and they said they didn't feel comfortable there."
She mentioned her concerns about an unwelcoming atmosphere to Andy Hanson, chair of the computer science department at the time. Siek said he immediately made changes to make women feel more welcome. It's taken many small changes like that over the years to address equity in STEM fields.
While men still lead in STEM enrollment and degrees across all IU campuses, despite representing the minority gender population since the mid-1970s, female enrollment in STEM programs, as defined by the National Science Foundation, increased 35% at all IU campuses from fall 2011 to fall 2021. STEM degrees earned by women increased nearly 66% from fiscal year 2010-11 to fiscal year 2020-21, according to data from the IU Office of Institutional Analytics. In fall 2021, 11,157 men were enrolled in IU's STEM programs compared to 9,913 women. In fiscal year 2020-21, men earned 3,067 STEM degrees while women earned 2,362.
Siek and others at IU are building on that work to ensure more women students and faculty feel empowered and supported in STEM at all levels.
Fostering support, improving culture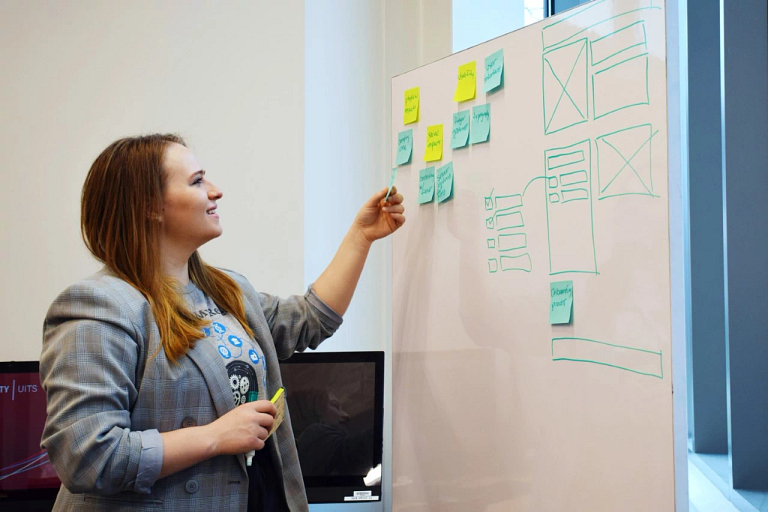 IU Bloomington senior Michaela Krawczyk, who will earn a Bachelor of Science degree in informatics in the spring, is among the growing number of women who are pursuing STEM degrees. She conducts research part-time as a Cox Research Scholar and seeks a career focused on user experience. Krawczyk said IU has been supportive through its efforts to attract and retain female students in STEM.
"It's a rewarding experience to master difficult concepts and see them come to fruition," Krawczyk said. "IU has tons of communities and is constantly having conversations."
At IU Bloomington, the Women in STEM Living-Learning Center, the Center of Excellence for Women and Technology and the Women in Computing group in the Luddy School of Informatics, Computing and Engineering are among the programs that provide mentoring and foster a culture that aims to increase the number of women in STEM.
The living-learning center, located in Wells Quad, opened in 2012. It provides a supportive community for about 50 female students who have an interest in the STEM fields; they don't have to be STEM majors. Participants take a class to learn about STEM careers, and the center offers tutoring, social and career development programming, and career exploration and guidance through trips to visit various industries. There are also opportunities for interaction with graduate students, medical students, faculty and alumni.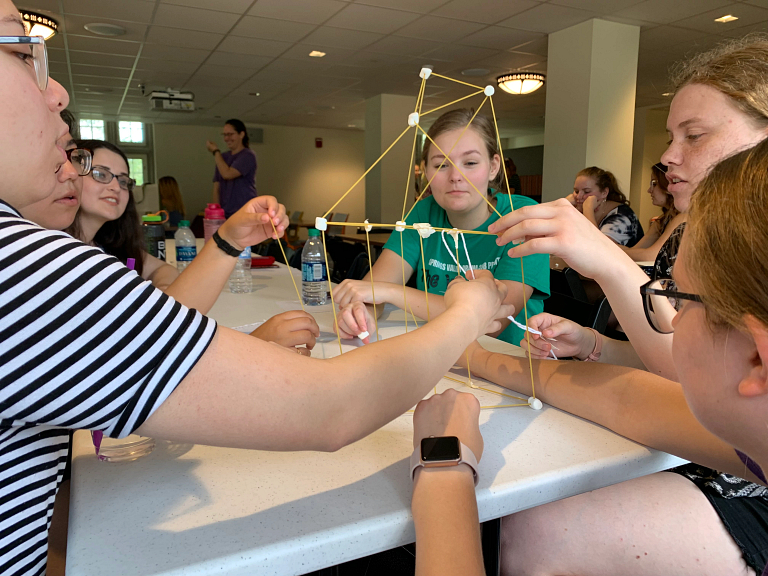 "Students who participate in the Women in STEM Living-Learning Center are retained in STEM majors at a higher level than a matched cohort of students who don't participate in the living-learning center," said Melissa Blunck, director of the Women in STEM Living-Learning Center and undergraduate research. "Students who come into the LLC undeclared or exploratory tend to declare a STEM major at a higher rate than a matched cohort who don't participate."
Female students can also find support through the Luddy School's Women in Computing group, started in the early 2000s by Siek, Kay Connelly, who was recently promoted from Luddy's associate dean for research to interim associate vice president for the Office of Research Development, computer engineering professor Beth Plale and former computer science professor Suzanne Menzel. The group's goal is to provide a supportive community for female students and empower women in technology fields, with social events, outreach, professional workshops and more.
Connelly said such a group would have been helpful for her when she was an undergraduate computer science major at IU.
"There was no kind of Women in Computing group," she said. "And there was only one tenure-track female faculty. "
Connelly said some male students also used to tell her that women didn't belong in computer science – until they realized she was one of the best students in the class.
"So, in my position, I try to make it a welcoming space for diversity in the school," she said.
Part of what women in STEM are battling are decades-old stereotypes about where and how they can excel. This unconscious bias can impact the opportunities women receive.
However, the strides women are making in STEM at IU are evident at a higher level in the Luddy School. Joanna Millunchick became the first woman to serve as the school's dean on July 1. The eight associate and assistant deans are an even split of men and women, and four of the five department chairs are women.
Empowering women
The Center of Excellence for Women & Technology, which started in 2013, strives to empower women from all campus disciplines and develop their technical and self-management skills. It offers a variety of programs, such as the annual Summit on Women and Technology, the Emerging Scholars Research Experience for Undergraduate Women, paid internships, mentoring and student alliance teams. The center also does community outreach and education, such as a girls' coding camp and STEM nights at elementary schools, to help young girls see what's possible.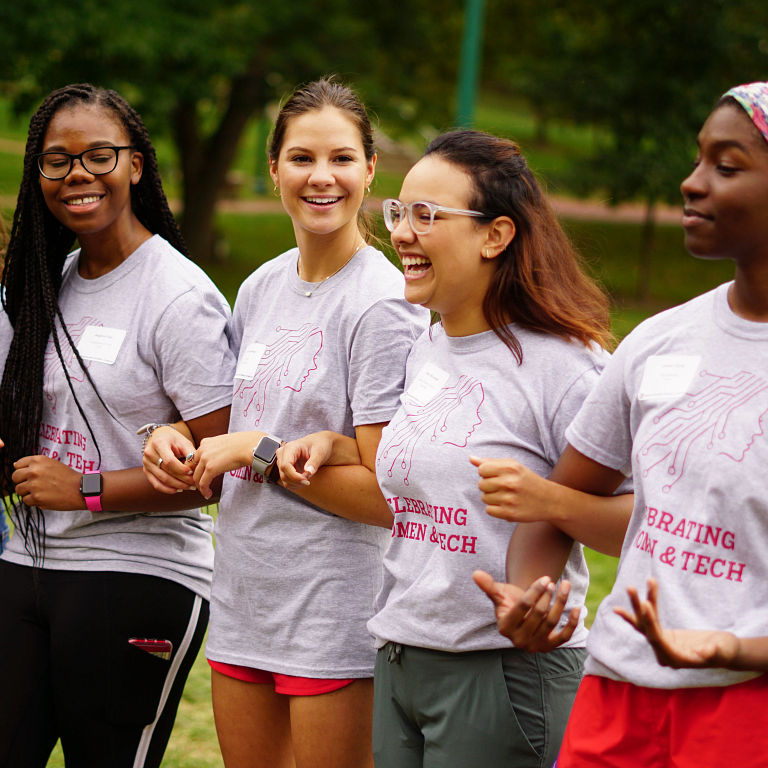 "It's about building technology skills, making women feel comfortable with them, giving opportunities to try it and clear acknowledgment that technology touches every major and discipline," said Michelle Bartley-Taylor, the center's director.
She said the center is unique among universities in that it serves women across all disciplines.
"I feel like we're making a big impact here, and when I hear that other universities don't have a similar program, I feel like we have a bit of a leg up," Bartley-Taylor said.
Additionally, the center has created advocacy groups for men to become better allies for women.
"We recognize that sometimes the problem can be environment, which is why we have an advocacy program, Male Advocates and Allies for Equity, which is specifically for men to create better environments," Bartley-Taylor said.
Through the program, faculty members learn, ask questions and discuss departmental cultures and practices to work toward equity and inclusion.
Morgan Brockman, a 2020 IU Bloomington graduate who works for Deloitte Consulting as an application and program analyst, said her participation in the Emerging Scholars research program and experience with the Center of Excellence for Women and Technology built critical career skills and prepared her for challenges that women face in STEM fields.
"By focusing the target audience as people who identify as women, it allows those to be surrounded by others in the same demographic, allowing them to thrive in programs where oftentimes they might feel discouraged or overshadowed," Brockman said. "Having programs such as the Research Experience for Undergraduate Women, workshops, mentoring, etc., it provides women an opportunity to build their skills in an encouraging environment so they are prepared when entering a field that doesn't always provide the same environment."
Brockman co-authored two research papers after participating in the Emerging Scholars research program. She said she gained not only skills but also confidence with the support of her research mentor and workshops the center provided.
"Confidence is key when facing adversity in this field," she said. "Without these opportunities, I would not be where I am today in my chosen career field, knowing that I absolutely deserve my role. This has also encouraged me to participate in IU recruiting so I can be another female representative on campus and encourage those audiences to apply."