Starting Aug. 9, Indiana University Bloomington students will begin moving into residential housing for the 2020-21 academic year. A new schedule and new processes will be implemented for move-in this year in an effort to keep the IU and Bloomington community safe and limit the spread of the coronavirus.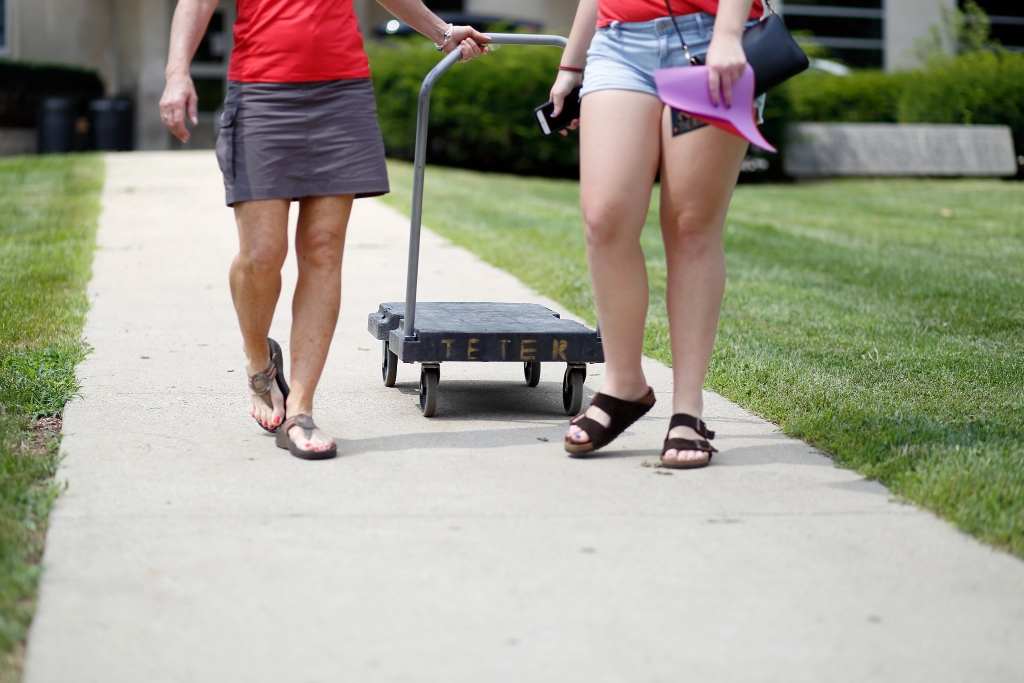 The move-in timeline will be broken up into several phases and spread out over two weeks, with no more than 1,500 students moving to campus per day. Certain groups will be able to move in earlier than others, and students will be required to schedule their move-in slot during a date that is available to their group.
Students who reside in Indiana or its bordering states (Illinois, Kentucky, Michigan, Ohio) will be encouraged to move their belongings into their rooms between Aug. 11 and 14 then leave, returning to campus on Aug. 20 or later. Early move-in will not be available except to international students.
When students arrive to campus, they will go through a drive-thru check-in process at Memorial Stadium with stops as follows:
First stop: Compliance check. Students will verify that they have signed the Student Commitment Form as well as the 2020-21 Residence Hall and Furnished Apartment Housing Contract Addendum. Staff will also confirm that students have tested negative for COVID-19 in the 10 days before arrival. All students will receive a COVID-19 test upon arrival.
Second stop: Crimson Card. Students will pick up their university ID, which will also act as a room key for most students. New students should submit a photo for their Crimson Card online no later than Aug. 7.
Third stop: Face masks. Each student will be given two IU-branded, reusable face masks. Masks must be worn when entering all IU buildings and in outdoor spaces where physical distancing is difficult to maintain.
Fourth stop: Online check-in. At the last drive-thru stop, students will complete an online check-in for their residence hall, and receive directions and guidelines for unloading their belongings.
Students will be allowed to bring only two guests to help them move into their residence hall, and all parties will be required to wear a mask while doing so. Residential Programs and Services staff will monitor the elevators and ensure that everyone practices appropriate physical distancing.
At Eigenmann, Wright, Forest, Foster and the Avenue -- locations where curbside parking is limited -- movers will be on hand to help students with their belongings. Students may ship belongings, clearly labeled with their name and room number, directly to their residence hall beginning Aug. 3.
Parking will be free in all CH spaces around the residence halls until 7 p.m. on each move-in day. Cars will need to be moved to the stadium for overnight parking. Because each move-in day will be capped at 1,500 students, traffic is expected to be light, and campus traffic patterns will not be altered as in years past.
Students should continue to monitor their email and the Fall 2020 website for major university updates. The Residential Programs and Services Move-in Guides are also up to date with useful information for students.