INDIANAPOLIS, Nov. 10, 2020
Jawz
Looking to balance Jinx's friendliness, Jawz was introduced as a more competitive and ferocious mascot for IUPUI Athletics in 2006.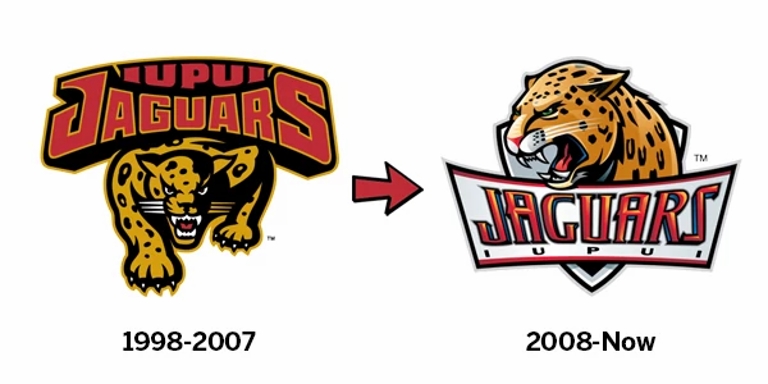 Coinciding with Jawz's introduction, Avant Garb modernized Jinx's look with a new suit. IUPUI was preparing to update its original logo and wanted a more intense mascot that better aligned with its primary athletics logo of a jaguar prepared to pounce in competition.
"If you're stacking yourself against other mascots, you want to have the physical, imposing presence," Holdaway said. "It's just like when you're playing sports -- you want to look the part if you're going to play the part."
Avant Garb took IUPUI's request for a more "game face" mascot and gave Jawz a muscular build, visible whiskers and intense eyes. Smith described a difficulty in crafting Jawz as she walked a fine line between presenting him as powerful but not intimidating.
"You don't want it to be a hostile character; you want it to be an intensely loyal character, and Jawz comes across that way," she said. "He's intense."
Holdaway cited the mid-2000s as being a time where it was popular to add a "z" to things, and that's how Jawz earned his name in a partnership between the athletics and marketing and communications departments. Jawz's outfit includes a jersey with the number "06," which held dual meaning as being the sixth man on the team and representing the year he was created.
While Jinx was positioned as more of the community mascot, Jawz has grown to be just as common on the sidelines at athletics contests as he is in the Campus Center or in promotional material. Recently, Jawz has been seen following the university's health and safety guidelines by wearing a face covering in response of the COVID-19 pandemic.
Mascot masks have become a common request for Avant Garb now, but Smith named Jawz's mask as the best they have created. Accounting for the mascot's distinguishable pointed whiskers, Avant Garb customized a special mask with holes for Jawz's whiskers to still be visible.
"You can't get any more custom-made than that," Smith said.
Avant Garb also made a mask for IUPUI's newest and hippest mascot, Jazzy.
Jazzy
Looking to fill an unmet need, Jazzy joined IUPUI's mascot troupe in 2015 as its first female mascot and one of the first female mascots in college athletics or professional sports.
The progressive thinking behind having female representation in a mascot was something that was not being seen across the country at the time, and Smith credits IUPUI for being ahead of the curve.
Avant Garb commonly provides three concepts when working on a mascot but provided five designs for what would become Jazzy. They were thrilled with the request and were proud to create her.
"I'm the woman mascot-maker, I'm the queen of the fuzz, and I want to make girl mascots," Smith said. "Mascots have always looked male, but now it's great to have someone like Jazzy with such a strong personality."
The genesis of Jazzy's name stems from her bubbly, outgoing personality and is also tied to the rich history of jazz music's significance in the state and on Indiana Avenue, which runs along the north part of campus.
She has been a common sight at women's athletic events but also joins Jawz at many community events. While traditionally most kids love mascots, adults also enjoy interacting with them.
"Adults interact with mascots more than you'd think, and they especially tend to grant them a lot of influence," said the current Jazzy in an email. "I've been walking by people talking on the phone who have put their call on hold just to give me a high-five and then quickly jump back on their call."
Whether it's at a sporting event, a dance marathon, a campus function or a community event, mascots command a lot of attention and are expected to provide a level of unmatched enthusiasm and excitement. That responsibility is not lost on the students working in the mascot program.
"I take an exceptional amount of pride in my work," Jazzy said. "It's a lot of stress sometimes, knowing that you're serving as the face of the university out in public and acting accordingly, but it's so fun to just be able to go out there and give it your all."
All of the mascots traditionally don spirit wear, but Jazzy is the stylish one of the group. She has basketball and cheerleading uniforms and has dressed up for IUPUI's International Festival. But be on the lookout, as soon she and Jawz will be wearing business attire for formal events.
"They feel out of place in their shorts and tank tops, just as you would," Smith said. "Say you are going to a fundraiser and showed up in your basketball shorts -- you would feel completely naked. Their wardrobe is expanding."
The primary goal of the mascots is to lift spirits, build spirit across campus and interact with our fans in a positive way while representing IUPUI on the highest level.

Bev Knight, director of sponsorships
Like many students, staff and faculty, the mascots have spent most of this year quarantining. With a lack of events and large gatherings, they have made only occasional appearances, such as during the first week of school. They have received just two requests since the start of the fall semester, but they are ready to be deployed when the situation arises.
"The mascots are here and ready to take action," Knight said.
The gravitational pull of people of all ages when mascots enter a room is inarguable. IUPUI is fortunate to have a historical trio of large furry and friendly representatives that captures the spirit of the university -- powerful, swift and confident.
"They are a force to be reckoned with," Smith said. "This group of mascots riff off of each other, and they are indeed a force that represents the force of IUPUI. It's a university that welcomes a whole diverse community together as one. IUPUI has made that message clear in their mascots."
Continue to the 'Tail' of the Tape, or go back to read Part 1 about IUPUI's first mascot, Jinx: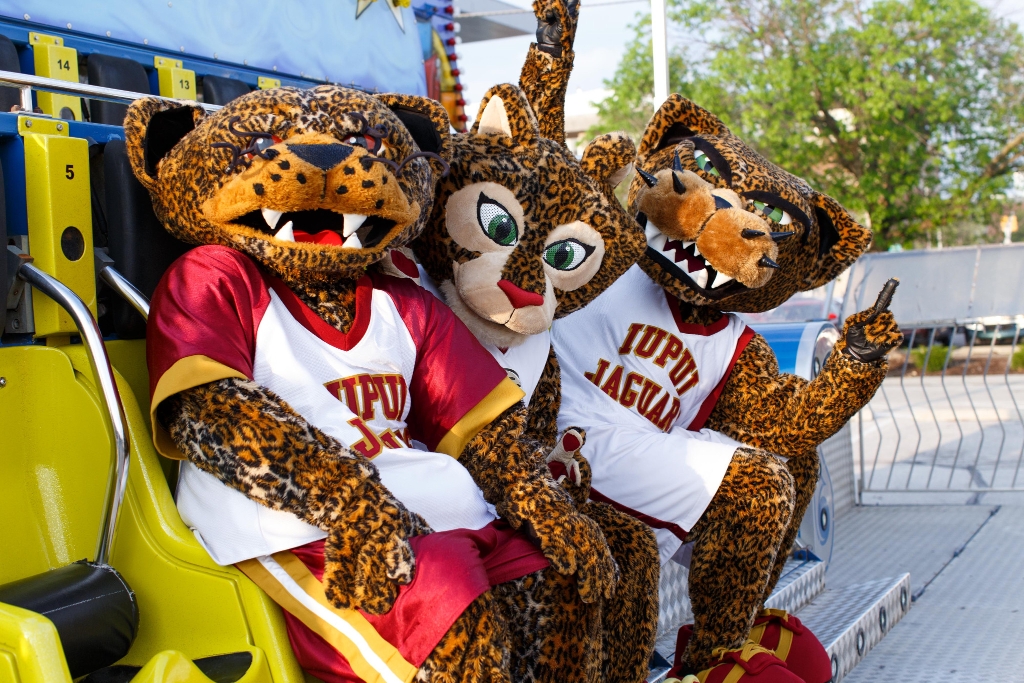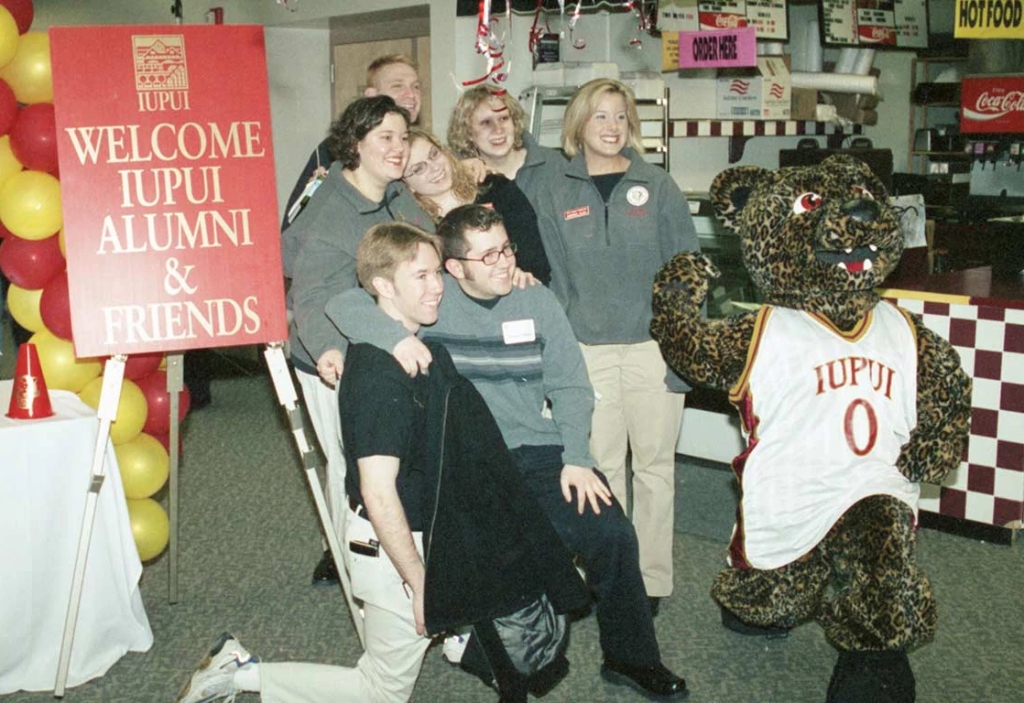 Part 1: An evolving campus
Go back to Part 1 to learn about IUPUI's transition to Division I athletics and the original Jaguars mascot.
Meet Jinx