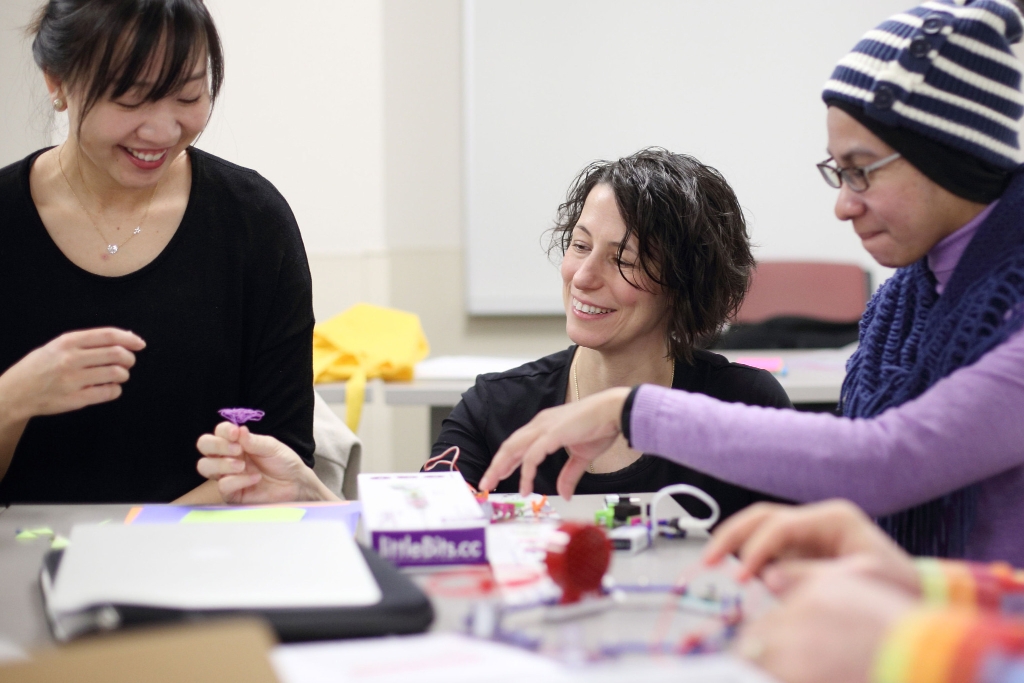 There is little understanding of how to teach science productively in elementary school, so Kylie Peppler is falling back on a tried and true tool: puppets.
With a little help from her friends, fellow School of Education assistant professor Joshua Danish and IU biologist Armin Moczek, the Hoosier native is making wearable computers and electronically enhanced puppets that allow students in kindergarten to Grade 3 to experience different biological systems through simulation.
These hands-on, project-based learning experiences are at the core of Peppler's advocacy of the Maker Movement, which teaches that we can learn to do practically anything by cultivating creative thinking and working and designing within the context of recognized systems so as to help cultivate a spirit of agency in participants.
Description of the following video:
[Video: Kylie Peppler and young elementary school students are making crafts with their hands at a table]
Kylie speaks in voiceover: I've been studying maker culture, this idea that we can go back to our roots, and really think about what it means to get involved in making things in the world around us.
[Video: a close up on a child's hands sewing]
Kylie speaks in voiceover: We know that that's good for learning.
[Video: Kylie is sitting in front of a mannequin wearing a scarf, she speaks to someone off camera]
[Words appear: Kylie Peppler, Assistant Professor, IU School of Education]
Kylie speaks: And we also know that this is really a way to re-think our way with technology. So instead of having technology only being in STEM fields, it starts to become technology across the curriculum.
[Video: a child is sewing in a room with other children sewing, pieces of a technological device fall on a table]
Kylie speaks in voiceover: So when we look at field on e-textiles we see that it's the same hardware, the same kind of software that's programmed.
Kylie speaks: But yet one can be sewn more easily into clothing. And this other kind of computer is usually used in soldering kinds of projects.
[Video: Kylie is looking at a tool with elementary students. One student is holding a bee tool.]
Kylie speaks in voiceover: And so only 1% of the designers with these robotics tools are actually female, and 65% with a sewable computer are female.
[Video: A female elementary school student attaches tech device to her sewed craft.]
Kylie speaks: And so, when we leverage those practices, we start to say, yeah, this is for me. I could do this.
[Video: Two female elementary school students sew at a table appears. A close up of a child's hand arranging beads attached to tech device appears. Kylie holds up craft for students to see.]
Kylie speaks in voiceover: We start to see young girls take on leadership roles that we don't see with traditional kinds of robotics in the classroom. And as we start to invite women back into computing, we start to really see it as a creative field instead of being a narrowly technical kind of field.
Kylie speaks: Actually, I love every minute of every day. I get to do so many different things.
[Video: Sewing tools sit on a table]
Kylie speaks in voiceover: Pretty much I feel like I use this really fertile territory for kind of envisioning something and then it becomes reality.
[Video: Kylie talking with elementary school students]
[Screen fades to black]
[Words appear: INDIANA UNIVERSITY]
[Words appear: Fulfilling the promise]
[END OF TRANSCRIPT]
"Working on e-textiles -- fabric-based items with electronics sewn into them with conductive thread -- was the spark that ignited my transition from knowing about Maker to seeing it as a focal point for my research," Peppler said. Around that same time, in 2009, she met Dale Dougherty, who is seen as the founder of the Maker Movement.
"He has said 'yes' to all of my crazy plans" to entice those in education and research circles to explain and then leverage the phenomenon of the Maker Movement in education to convert the unconverted.
"That turns out to not be very hard work, given that it only takes an initial hands-on experience before teachers, academics, parents and kids are hooked with this way of teaching and learning," Peppler said.
The gendered nature of the tools and materials we use and the impact they have on interest, engagement and learning outcomes is one reason Peppler chose electronic textiles.
"It may be one way to explore and address the systemic issues facing the STEM pipeline," she said.
Research shows that tenured women in higher education do seven more hours of service weekly than their male counterparts, and that it takes two to three times longer to be considered for full tenure than it does for male peers.
"So yes, gender affects my work daily, if not on an hourly basis," she said. "Part of what I do, and really how and why I started on this path, is study gender, race, power and positionality," she said. "It affects everything we do at all moments, all of our interactions, and impacts both our day-to-day and long-term experiences."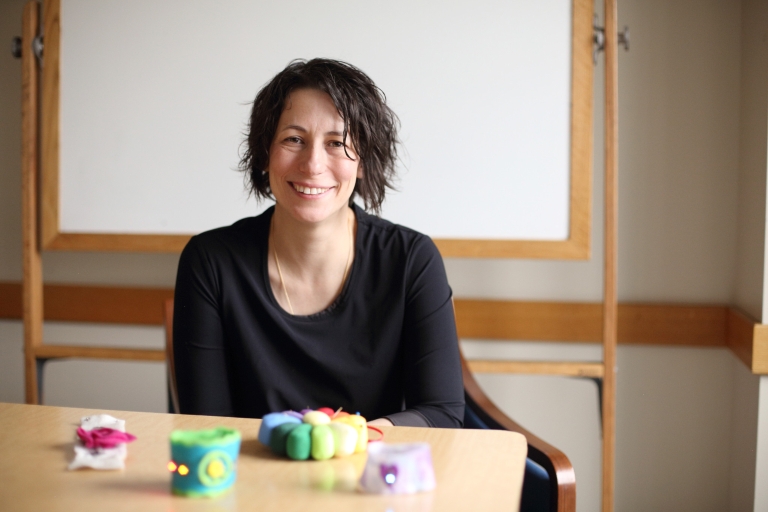 Peppler believes most people aren't aware of how inequities happen and what they personally can do to improve things, particularly for women and people of color.
"We are oftentimes blind to these interactions," she said. "But my work makes me hyper aware of these interactions."
By founding a workshop -- part lecture, part demonstration -- called IU Makes that brings together like-minded researchers, students and members of the public, Peppler believes another option is in place to forward the discussion about the Maker Movement and its new vision for education, and how that vision can address societal inequities. The same can be said of Creativity Labs, a designed-based learning lab focused on youth communities and based out of IU.
"I don't think that things are changing nearly as quickly as we would like to think they are; part of it is this myth that we've moved into a more equitable society that is blind to color and gender, where anecdotal evidence is pointed to in order to support this claim," she said. "While that can be a disservice to us all, I do think that we are arming our students with the right tools to see both the kinds of inequities that I describe as well as the kinds of tools needed to enact change."