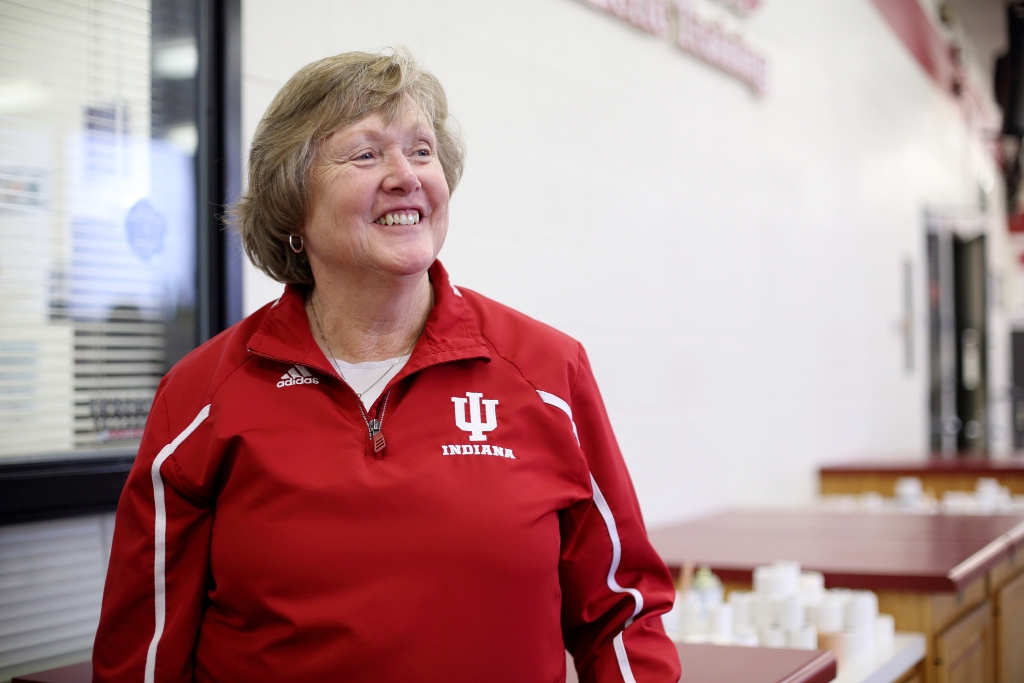 Wendy Poppy grew up in the days before Title IX, when girls didn't compete in sports and college athletics was a man's world. But it's in college sports that she has broken new ground for women, serving as an athletic trainer for the IU Department of Athletics for the past 30 years.
The work has its challenges and frustrations, but there are real rewards, said Poppy, the athletic trainer for IU women's soccer and women's tennis.
"I get to watch athletes grow up," she said. "It's fun to watch them mature and get to the next level in their decision-making, in being responsible for themselves and taking ownership of their lives."
Description of the following video:
[Video: In an indoor soccer field, Wendy Poppy throws a soccer ball towards a female student, who kicks it back to Wendy. Others are yelling while playing soccer in the background.]
Wendy speaks in voiceover: In 1974 there were about five female athletic trainers who were certified. And by now, I think once in '76 maybe, there were 60 certified women athletic trainers.
[Words appear: Wendy Poppy, assistant athletic trainer, IU women's soccer and tennis]
[Video: Wendy is sitting in an office, she speaks to someone off camera]
Wendy speaks: But there were 1600 males within the profession. And now we have about 40,000 memberships. So athlete training as a profession has really developed as well. And about half of those are females.
[Video: Close up of feet running on a soccer field, a wide shot of female athletes running appears]
Wendy speaks in voiceover: We definitely have expanded in that role. I think without women's sports that probably would not have been as big a career opportunity.
Wendy speaks: I think the biggest reward for me is to see someone go off from an injury to be able to get back into doing what they love to do. They're here because they love their sport, first of all.
[Video: Female athlete with a leg injury sits on the ground, propping her leg up.]
Wendy speaks in voiceover: And that injury will keep them out of their sport. They may not be a starter. They maybe somebody who'll never see the field.
[Video: Female athlete with a leg injury stretches her leg while Wendy advises her]
Wendy speaks in voiceover: But for them to get back into practice is hugely important for them, because it still is part of their identity.
Wendy speaks: I mean I'm not here as much because I love sports and I want to be around sports. I'm here because I love what I get out of the job, I get to watch athletes grow up.
[Video: Wendy smiles while looking at students practice, a wide shot of students practicing appears]
Wendy speaks in voiceover: Basically, I know parents always like to think when they're 18 and they go to college, they're grown up. But it was really fun to watch in a tour to get to that next level.
[Screen fades to black]
[Words appear: INDIANA UNIVERSITY]
[Words appear: Fulfilling the promise]
[END OF TRANSCRIPT]
A Wisconsin native and a coach's daughter, Poppy earned a physical therapy degree and worked for 10 years in clinics and hospitals in Cleveland and Milwaukee. Some of her patients were injured athletes, and it frustrated her that their therapy often ended before they had fully recovered.
So she went back to school and earned master's degrees in physical therapy and athletic training at the University of North Carolina. IU offered her a job in 1985, and over three decades she has been an athletic trainer for men's and women's track and field, volleyball and women's basketball as well as soccer and tennis.
One of the best things about her job, she said, is that "I get to rehabilitate athletes until they're right, until they're ready to go back to a very active physical lifestyle."
Poppy was recognized in 2011-12 by the IU Office of Women's Affairs with its Award for Excellence in Supporting Women's Athletics. She also teaches in the IU Athletic Training program and co-authored the National Athletic Trainers Association position statement on managing and preventing ankle sprains.
"Wendy is one of the most passionate, intelligent and dedicated athletic trainers I have ever worked with as a player or a coach," said Amy Berbary, IU head women's soccer coach. "She respects the kids. She treats them as adults. The hours she puts in creates an environment where they trust her and work hard."
Poppy's day begins at 6 a.m. She helps with taping and stretching during soccer practice. Then there's weight training and conditioning, followed by therapy and rehabilitation for a half-dozen players recovering from injuries. Tennis practice comes later in the day.
"Wendy really wants us to be our best," said Rachel Romero, a junior midfielder in soccer from California who was working with weights as she recovers from ACL surgery.
Wendy Poppy performs physical therapy with athletes from the women's soccer team.
When she's not working with athletes, Poppy enjoys gardening, cooking, reading and antiquing. And she enjoys history-related travel, including visits to Civil War sites and locales associated with World War II, such as Pearl Harbor, Hiroshima, Japan, and Dachau, Germany.
But mostly she can be found working. "The hours are definitely long," she said. "I was talking with one of our coaches and I said, 'You know, we're out of season and I worked 10 hours yesterday.'"
If the hours are one challenge, another is knowing that few female athletes will receive the recognition they deserve. Title IX has created extraordinary opportunities, but IU women often compete in front of only a few diehard fans. And while some men can aspire to play their sport professionally, that's almost never an option for women. So most focus intently on their studies in addition to the long hours they put in on the field and in the training room.
"They work just as hard as the men," Poppy said. "They undergo the same injuries. They play just as hard whether there are people in the stands or not."