Ali Emswiller, first-year graduate student, Master of Public Affairs in nonprofit management at IUPUI
An IUPUI graduate student, Ali Emswiller has focused her major, and her spare time, on helping others. The Frankfort, Indiana, native has spent the past five years taking part in Jagathon: IUPUI's Dance Marathon, serving as vice president for finance as well as president. In that time, the group has raised more than $1 million and was integral in her decision to continue her education at IUPUI and to pursue a master's degree in nonprofit management in the School of Public and Environmental Affairs at IUPUI.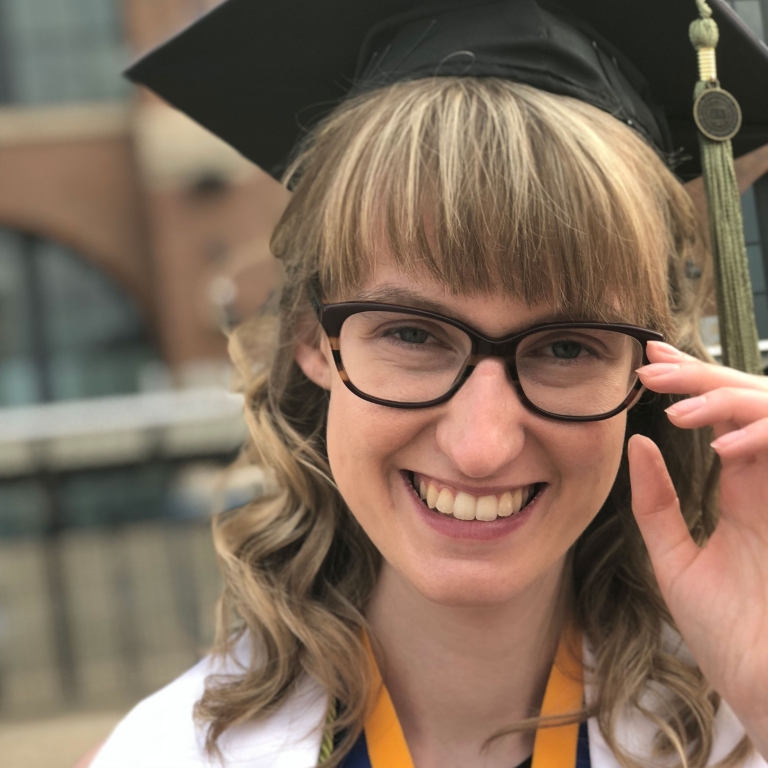 She also serves on the Executive Board of SPEA's Public Affairs Student Association, which promotes volunteerism and service in the Indianapolis area, and founded Be the Match on Campus at IUPUI, which supports the National Bone Marrow Donor Registry to provide life-saving treatments and cures for patients with blood disease.
Emswiller takes inspiration from her mother, who she said was her biggest role model growing up, teaching her to take pride in her work and to always strive for the best.
"She is always willing to lend a helping hand to others when they need it, even if it means going out of her way to do so," said Emswiller, who earned her Bachelor of Science degree in sports management from IUPUI. "She is the most well-respected person that I know, which is largely because of her kindness to others and resilience in the face of adversity."
After graduation, Emswiller aspires to be a leader in philanthropic fundraising and hopes to see more women take on leadership roles in this field.
"It is always refreshing to see a woman confidently lead with boldness and passion," she said. "Women have unique ideas and perspectives that deserve to be shared and heard. Also, coming from a background in sports management, I am excited by seeing more and more women entering this field as well. I believe that this allows for a new dialogue in athletics that hasn't existed previously. I believe wholeheartedly that the sharing of these new ideas is one of the strongest ways that we might be able to innovate as a society."