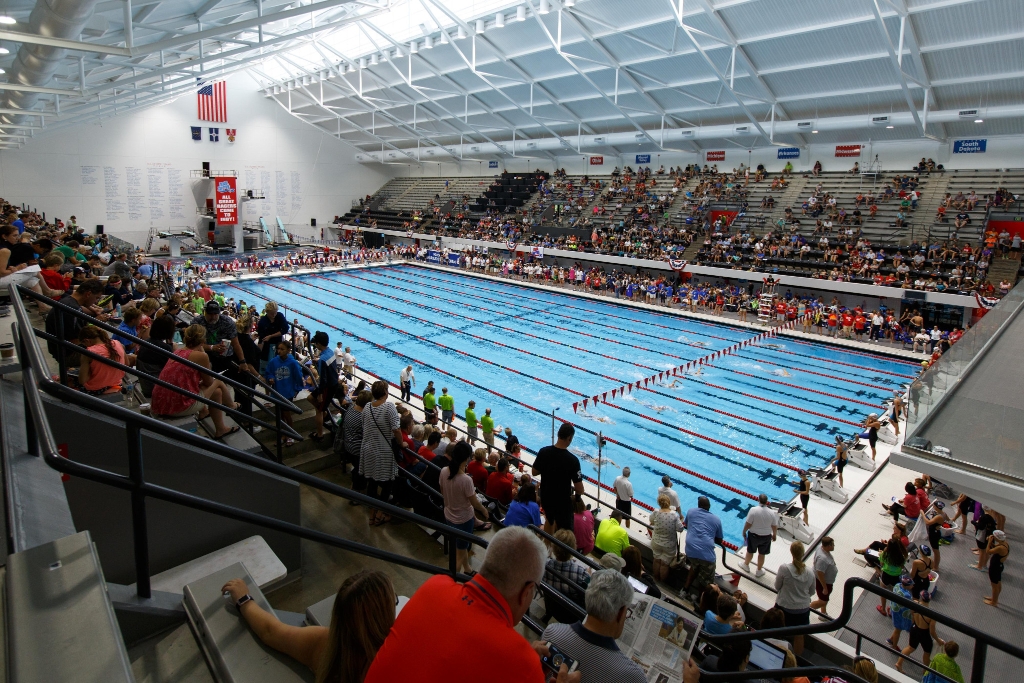 The pool at the IU Natatorium is known for producing fast times. Also fast: the rate at which the Natatorium's event calendar fills up.
Through 2025, the Natatorium has bookings for annual fixtures on the swimming calendar as well as major events that come through every few years. Thanks to geography, history and reputation (plus a seating capacity of 4,800, unmatched for an indoor pool), organizations move quickly to secure their dates.
The NCAA has an agreement to host swimming and diving national championships on a regular basis at the Natatorium; more will be announced at later dates. The Indiana State High School Athletic Association holds its swimming and diving state championships at the Natatorium each year. The Horizon League, which IUPUI joined in 2018, will begin to hold its championships at the Natatorium starting in 2021. Indiana Swimming's senior and age-group state championships are also annual fixtures, as are events with the Carmel Swim Club, one of the nation's top club teams.
Here's a look at a few more significant events coming through in the next several years:
2021
June 6-13: U.S. Olympic Team Trials -- Diving
July 29-31, Aug. 1-4: USA Diving junior national championships
2022
March 16-19: NCAA Division III swimming and diving championships
April 7-9: World Series of Para Swimming
2023
March 8-11: NCAA Division II swimming and diving championships
May 5-7: NCAA women's water polo championship
2024
Feb. 27-28, March 1-2: Big East conference championships
March 27-30: NCAA Division I men's championships
April 18-20: World Series of Para Swimming
May 10-12: NCAA women's water polo championship