One of the primary tenets of Indiana University's Books and Beyond has been access to books. Research has shown that when children are given a choice of what to read, it improves academic performance and attitudes toward reading and learning.
As Books and Beyond grew, starting a decade ago in 2008, it became clear that access to a library and training teachers in English language instruction would be key to creating a model of literacy to support the students at Kabwende Primary School in Musanze, Rwanda.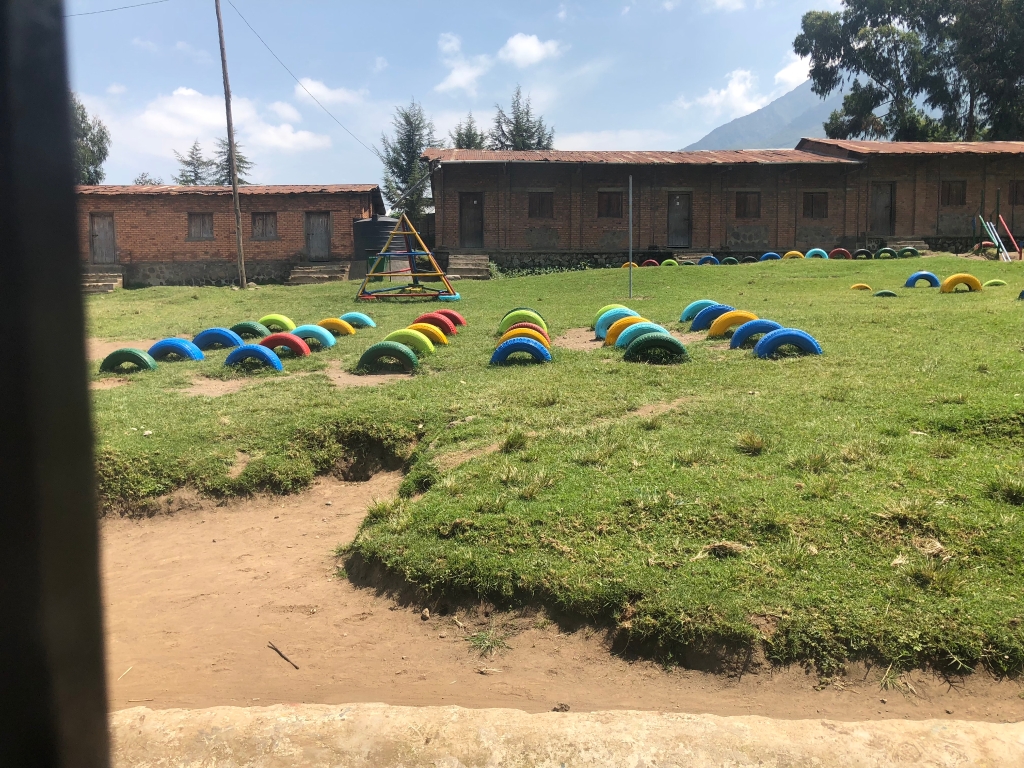 Enter Michael Courtney, outreach and engagement librarian with IU Libraries. Courtney joined the Books and Beyond Advisory Board in 2012, and the library project began in 2014. The dream was realized in earnest with a former classroom at Kabwende turned into a dedicated library in 2015.
The library started with about 400 donated books and currently has about 1,200 books that all students and staff can take advantage of. Donations are being gathered for a planned shipment later this year; books desired include early literacy reading levels, along with books in English, French and Kinyarwanda.
"The Kabwende library for me has been not just expanding and increasing literacy in this school but really working toward developing a reading culture," Courtney said. "The students are reading and engaging with information in the classroom, and I wanted to make that available to them outside of the classroom, whether that's in a children's book, whether that's in a nonfiction book, or access to these things."
Courtney taught a two-day workshop for 50 teachers at Kabwende that focused on the fundamentals of library and information science, classification and organization of library resources, and information literacy in the classroom.
The two-day workshop was part of a certificate program combined with a three-day English language workshop. Teachers who completed all five days received a certificate of completion that codified their participation and skills building.
"There is a larger goal of training teachers in the importance and use of the library in their school," Courtney said. "This is central to the larger mission of building a reading culture and tying library resources to classroom literacy instruction."
Along with the drought of reading materials at Kabwende School in 2008, when Books and Beyond was starting its work in Rwanda, the government changed Rwanda's official language from French to English.
The switch was an effort to help Rwanda become part of the global economic community, but finding a sufficient number of teachers who speak English has been difficult. Because the local Rwandan language, Kinyarwanda, is primarily spoken, Books and Beyond implemented teacher training into its three-week student literacy camp.
Description of the following video:
[Words appear: Indiana University presents] 
[Video: Indiana University, one library at a time] 
[Video: View of Indiana University's Michael Courtney walking up a dirt path with five Kabwende school students talking to him.] 
Courtney speaks: What I'm most proud of with my work with Books & Beyond … 
[Video: Courtney is in the classroom speaking with students. Cut to a close-up shot of Courtney in an interview, speaking to the camera.] 
Courtney speaks: … is that we started to think about this project in ways that were beyond creating a book. 
[Video: Close-up of students in the classroom reading from sheets of paper. Cut to a hand writing on a notebook. Cut to a group of students reading books outside.] 
Courtney speaks: The literacy camp is actually a perfect example of creating this physical thing we are calling a book. 
[Video: Courtney shakes the hand of the school headmaster and a teacher while students are lined up in the background. Cut to Courtney in a classroom speaking with Rwandan teachers.] 
Courtney speaks: Also over the last four years, being able to start with what was really an intellectual exercise … 
[Video: Courtney speaks with an Indiana University student. Cut to Courtney walking into the library at Kabwende school with students and teachers behind him.] 
Courtney speaks:  … and working with a group of students here, we really started to think about what if there was a library. 
[Video: Shot of books on shelves and two posters on the wall of the library. Close-up shot of library books; camera pans across them.] 
Courtney speaks: What would it look like? How would it operate? What would be in it? 
[Video: Courtney is in the library examining the space. Cut to Rwandan students waving and smiling and showing the camera their books proudly.] 
Courtney speaks: And seeing that become a reality was amazing. 
[Screen goes to black] 
[IU trident appears]
[Words appear: Indiana University]
[Words appear: Fulfilling the promise]
[Words appear: iu.edu] 
[END OF TRANSCRIPT]    
The literacy connection
Betty Dlamini, a senior lecturer in the IU School of Global and International Studies' Department of African Studies, traveled to Rwanda this year to take part in the intensive three-day workshop as part of the English as a Second Language teacher training. A native of the Kingdom of Eswatini, Dlamini is a singer, actress, playwright, poet and fiction writer who teaches southern African languages (IsiZulu) and cultures at Indiana University. The experience in Rwanda was personal for Dlamini.
"To have this experience is very important for me, because first of all, I'm African," she said. "But this is the first time I'm in an African region outside my home country."
Dlamini incorporates performance into English language instruction, which she said has been a successful strategy she uses in her own classes at IU. She taught the three-day workshop to Kabwende teachers on English language instruction.
"The strategies that we employ in training teachers in English instruction, we use pleasurable ways of accessing the language via songs, games and ways their students engage," Dlamini said. "For the Kabwende teachers, they have the challenge of speaking English as a second or even third language, with many of the group speaking Kinyarwanda and French, and now needing to know English. I enjoy helping them learn because for me, English was my second language as well."
Having an interest in using performing arts to address social issues, Dlamini has always wanted to do work in Rwanda. During her time at Kabwende, she incorporated various mediums into the instruction using the communicative approach, in which the English learners get the grammar in context. But above all, she made it fun.
"This is a safe space for these teachers to speak in English and make mistakes; whether it's pronunciation or grammar, it is OK," Dlamini said.
Description of the following video:
[Words appear: Indiana University presents] 
[Video: IU in Rwanda: teaching abroad]
[Video: Shot of Indiana University's Betty Dlamini with her back to the camera, walking into a classroom, while Kabwende school students sit outside.] 
Dlamini speaks: I came here to run a three-day workshop for the teachers of English in this country. I understand the country has been a French-speaking country … 
[Video: Cut to a close-up shot of Dlamini in an interview speaking to the camera.] 
Dlamini speaks: … and they changed the policy, and in schools they use English as a medium of instruction. So the teachers have that challenge. I'm here to help them deal with that. 
[Video: Close-up of teachers in the classroom taking notes and sitting at desks. Cut to Dlamini leading a class discussion and training session with the teachers. Cut to a shot of a teacher standing and speaking to the class.] 
Dlamini speaks: When we facilitate a workshop whose participants are in this wide spectrum, you have to try and play around fitting in everybody. 
[Video: Dlamini is singing and clapping, leading the teachers in the classroom in song] 
Dlamini speaks: So I use the communicative approach which could work for people at various levels. 
[Video: A teacher stands and reads from a piece of paper.] 
Dlamini speaks: So this is a safe space for them to speak in English and make mistakes. 
[Video: Close-up shot of teacher reading and looking at papers in a folder while a young boy looks on.] 
Dlamini speaks: Whether it's pronunciation or grammar, it is OK. 
[Video: Dlamini stands in the classroom, teaching and speaking to the teachers in the room. Cut to teachers sitting at desks in the classroom listening to Dlamini.] 
Dlamini speaks: But this has helped me to see the strength of doing those things from seeing them change within the three days. 
[Screen goes to black] 
[IU trident appears]
[Words appear: Indiana University]
[Words appear: Fulfilling the promise]
[Words appear: iu.edu] 
[END OF TRANSCRIPT]   
Connecting the school community
That safe space and help in learning English have benefited over 40 participating Kabwende teachers this year alone. Onesphore Bagirishya, who teaches English at Kabwende for P6 (similar to Grade 6 in the United States), has been a teacher for 20 years and has taught at Kabwende since 2004.
"The reason why I like using English, because most of my friends are from foreign countries and speak English," Bagirishya said. "Also, I have the ambition of training my students to speak English because the English language is all around the world."
Even Kabwende headmaster Clement Nkuriyingoma has participated in the English language training. When Books and Beyond started at his school in 2008, the headmaster didn't speak English.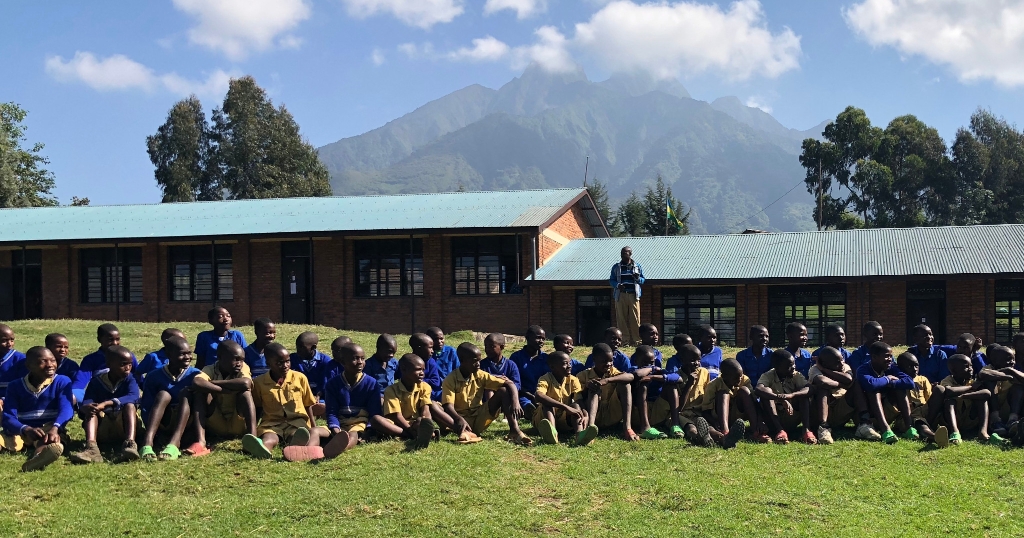 "If you compare the school from the first day here to 10 years, for me, it's very important because the Books and Beyond program has helped our school, and helped me, more than anyone," Nkuriyingoma said. "Training the teachers in English is very helpful, and the library has helped our learners. Our students and teachers read more books, and they know the benefit of knowledge through their books."
For Courtney and Dlamini, the work is far from done; it continues through resource outreach and correspondence with the Kabwende teachers.
"In talking with a lot of people, Rwanda is becoming a literacy model for Africa, which is interesting to really see how quickly something can grow," Courtney said. "From an educator's perspective, this is exciting because I think the challenges that we still have to overcome can really mirror the growth and the expediency that I see in the country."
Kabwende students and teachers they look forward to the work to come.
"We will prepare the good future, the good student, the good teacher, the good leaders of our country," Nkuriyingoma said.